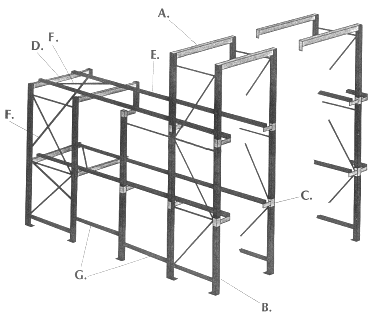 A. Top tie: Beams provide rack stability at the front of the drive-in system.
B. Rack Upright Frames: Support top ties and rail supports.
C. Rail Support Arms: Pallet rails to support pallets.
D. Rigid Anchor Support Beams: Used in the endbays to enhance lateral rail strength projected to the front of the rack bay.
E. Pallet Support Rails: Placed on channel or angle, hold pallets along row length.
F. Rear Diagonal End Bracing: Placed on the end bays to improve rigidity of the rack rows.
G. Bolted Spacers: Used between uprights to provide correct row length.